Need help choosing the best blinds for sliding doors?
We'll run through the best sliding door window treatment solutions.
So, What's the problem with sliding doors or patio doors?
Width
Often they are quite large in width, some blinds will not be able to span the entirety of your sliding door as they have width restrictions
Accessibility
Some blinds in certain situations are a hassle to roll all the way up to access your door.
So just what are the best blinds for sliding glass doors?
Choosing window furnishings for sliding doors doesn't have to be hard, let us summarise the best product ideas for you below.
Choosing roller blinds over sliding doors is a popular choice. They can be linked to achieve a larger width so that they will be able to span your entire door. You can add a linked blind on our order form easily, just follow the instructions in the ? tooltips and on our measuring page.  With the linked set up, you can easily roll down blinds on whichever side your sliding door is on as they can be made in an independently controlled configuration. Linked blinds feature less of a gap between the blinds since there is only one bracket in the middle, this can also be split over the top of window or door mullions.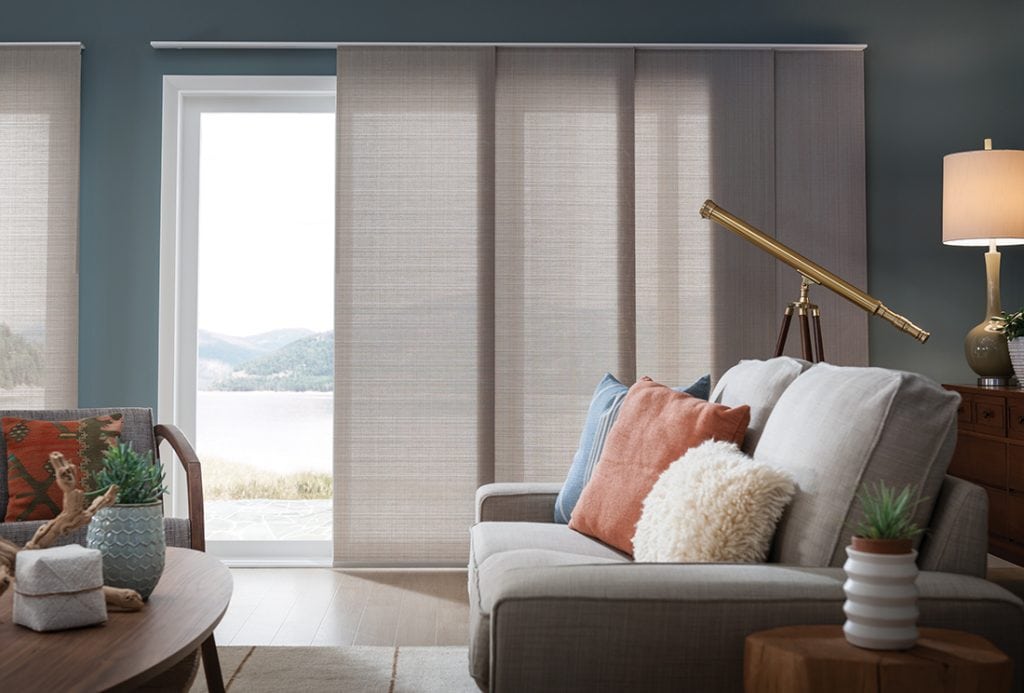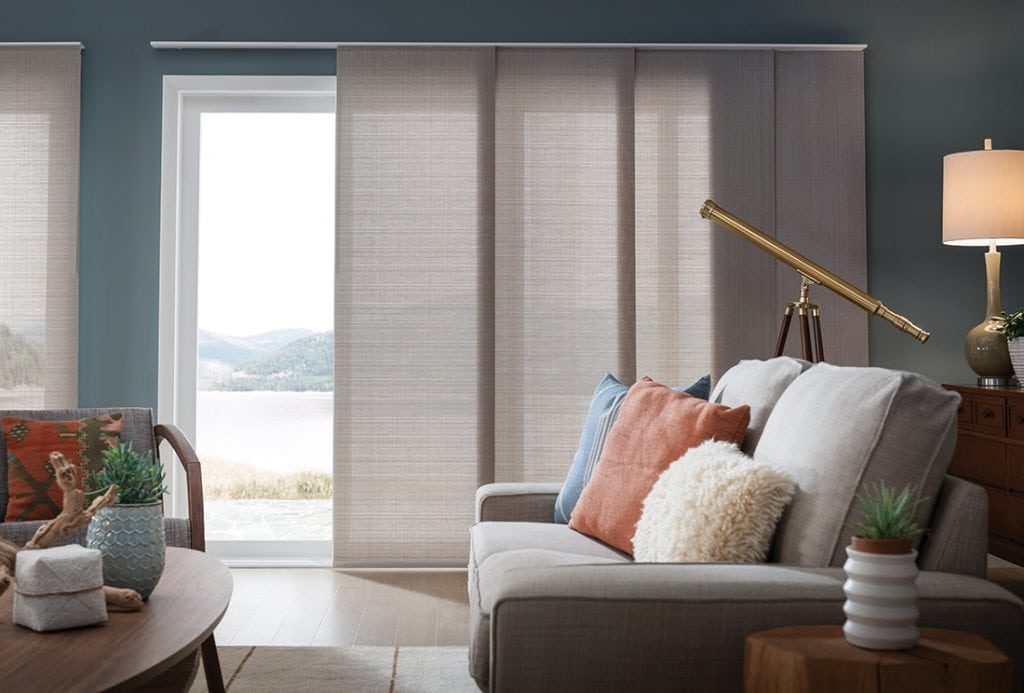 Panel blinds for sliding doors are great as you are able to effortlessly glide the large vertical panels across it's track to access the door, and a panel glide track can be made to very large widths. Panel Glide Blinds are a lot more easy to operate compared to roller blinds when used on sliding doors, and often look much better. The only down side would be an increased cost when compared to roller blinds, but still very affordable.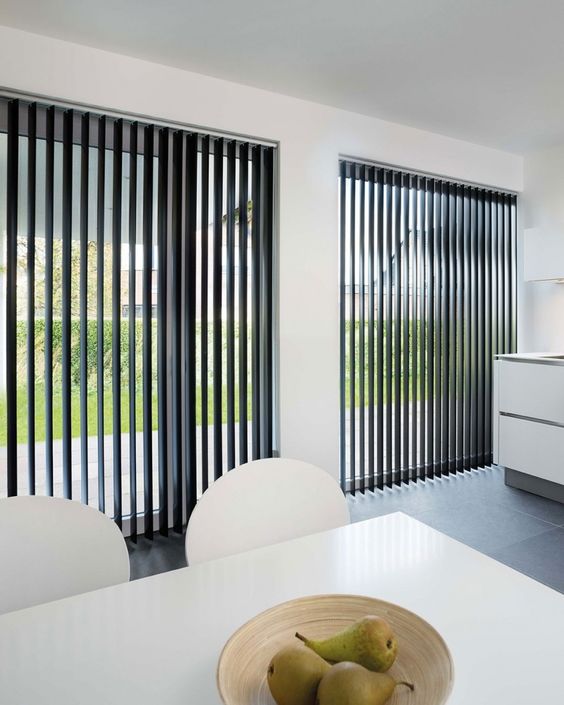 You're able to open just the side where you would like to access your door, vertical blind tracks are similar to panel glide tracks in which they can also achieve very large widths, perfect to cover your entire sliding door. These blinds are incredibly easy to tilt open to let light in, and also stack back for easy access of your doors.

Blinds or curtains for sliding doors?
Technically there is no limit to the size you can make your Curtains to on our website, as long as you have a suitable track for it which you can easily source from a local decorator store. They're also very easy to measure for. In addition to being able to span larger widths, Curtains also insulate your home better and will provide a more luxurious look.
5. Roman Shades / Roman Blinds
Roman blinds will require you to lift the blind all the way up to access the door, on top of this they would need to be placed high enough above the door so that the stack size of the blind will clear the opening completely. Since the width is limited to 3 metres you would have to butt these together to achieve larger widths. Roman blinds are on the higher end of the price spectrum out of their equivalent window coverings.
What about blinds for the inside of your sliding doors (A Recess Fit)?
Generally, there is not enough room for this as the inside recess of sliding doors depth is very limited, but the best option for this would be Vertical Blinds or Panel Blinds.
Why?
Because the track is not that large in depth, it can usually fit within the recess with limited space, when the vertical blind slats open they will protrude out into the room a little but will not detract from the overall look of the product. When shut they will still sit inside the opening. These blinds have the least depth requirement for inside fitting, to find out these values head on over to our measuring page.
Conclusion
So now that you know which window coverings are the best for your sliding doors, start browsing our custom made products by using the menu and get an instant quote. You can easily save up to 70% off RRP's by shopping online from anywhere in Australia. By Doing It Yourself, you will save on installer and sales people costs, best of all it will only take minutes all you'll need is a metal tape measure and a Phillips head screwdriver.
Popular options for French Doors or mounting directly onto doors
Door blinds options are usually shallow blinds that can fit comfortably behind your door handle, provided you have enough clearance. Roller Blinds, Honeycomb Blinds, or Slimline (25mm) Aluminium Venetian Blinds should do this well.
Roman Blinds are a popular option as well, they can clear your handle entirely by coming over the top of it, provided you choose a suitable headboard size on the order page.
We also stock miniature roller blinds (32mm tubes and miniature gear drive units), made specifically for caravans, and mounting onto doors. Please be sure to check out "Measuring for doors" section on our measuring page. This will also need to be specified within the 'window name' when ordering your product so we know to make them with the smaller gear drive and tubes.
Popular blinds for front door areas
Popular options are slimline (25mm) aluminium blinds, our unique miniature roller blinds, or honeycomb blinds. These blinds all have very small depth requirements, and can be made to very small widths, suitable for those side windows that some front door areas have. Be sure to specify you are wanting miniature roller blind tubes and gear drive units for us, otherwise they will be made with the regular sized items.